What You'll Need:
Picture Frame
Craft Paint (Optional)
1-4 pieces of colored felt
Roll of Decorative Ribbon
Mesh Laundry Bag
Hot Glue Gun (Or crafting glue)
Follow the bold lettering for a quick read, but don't miss out on all the extra tips below!
:D
1.
Start with your basic frame.
I got this one from a garage sale for about $1
2. I had bought silver paint for another project, so I decided to
glam up the frame by repainting it.
This step is optional and just depends on your personal preference.
3. If your frame came with a default photo (mine had the flowers) and cardboard backing, it's easiest to just use those. Otherwise, you will have to cut pieces of your own down to size.
Use the back of your image (or your white piece of paper) as the base for your project.
4.
Center your piece of felt on the white paper and glue it down.
(Depending on your frame size, you may need to use more than one piece of felt. If that is the case, I suggest using the ribbon to make a cute pattern that will hide where to pieces of felt meet.)
5.
Cut out a piece of mesh from the laundry bag. Make sure it's larger than the white paper.
Don't worry if it's not cut perfectly straight.
Lay the mesh over the paper and felt. Try to keep the mesh pattern straight.
(Btw, I found my mesh laundry bag at Walmart for just $1!)
6.
Flip the paper over and glue down the first edge of mesh lining.
7.
Continue to glue down all four sides.
Check the front often to make sure your lines are straight.
You want the mesh to be snug but not too tight. Remember, you'll want a little room to hang earrings on there!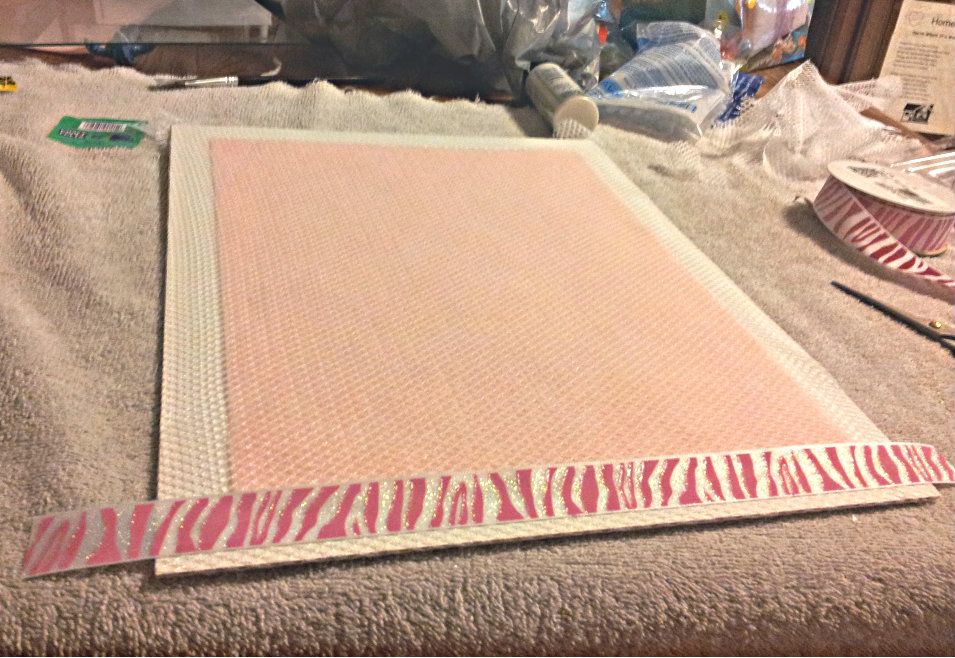 8. When the mesh is all in place and the glue has dried,
cut out a pieces of ribbon
just a bit longer than than the sides of the paper.
Check with your frame and figure how close to the edge the ribbon should be.
Glue the pieces of ribbon down on all four sides.
10.
Cut off any excess ribbon on the corners.
(If you want to embellish it some more, glue down decorative buttons, bows, or flowers in all four corners.)
When you're all done, put the paper in the frame and
back it with cardboard.
You might want to hot glue the paper and cardboard in place.
Then hang on your wall, get out your earring collection, and enjoy! :D